Together we can end deforestation in Uganda with Bamboo
Because of climate change, energy access is a growing concern. The dwindling forest cover and traditional charcoal, a significant energy source, are getting drastically more expensive every year. Over 94% of Uganda's population relies on fuelwood in the form of charcoal and firewood consuming about 4 million tons of wood for daily cooking. Although nations worldwide have significantly improved energy efficiency and increased clean energy access, millions still lack access to affordable, reliable, and sustainable modern energy. The World Health Organization estimates that 2.8 billion people worldwide still rely on coal and biomass for daily cooking and heating needs. Renewable energy only makes up 17% of worldwide energy consumption. With the rapid population growth in sub-Saharan Africa, people without access to clean cooking fuels will increase.
Massive deforestation in one of the Forests in Uganda
Uganda has some of the lowest access to clean cooking from 2010-2016, with a deficit of 41.2M people and an access rate of just 0.8%.
How is our approach helping to address the challenge?
Divine Bamboo produces high-quality, clean, and affordable briquettes produced from fast-growing local bamboo species and already existing agricultural waste as a sustainable cooking fuel alternative to conventional biomass fuels like charcoal and firewood that are driving high deforestation rates in Uganda. Our briquettes are long burning, affordable, and produce less smoke as compared to charcoal and fire.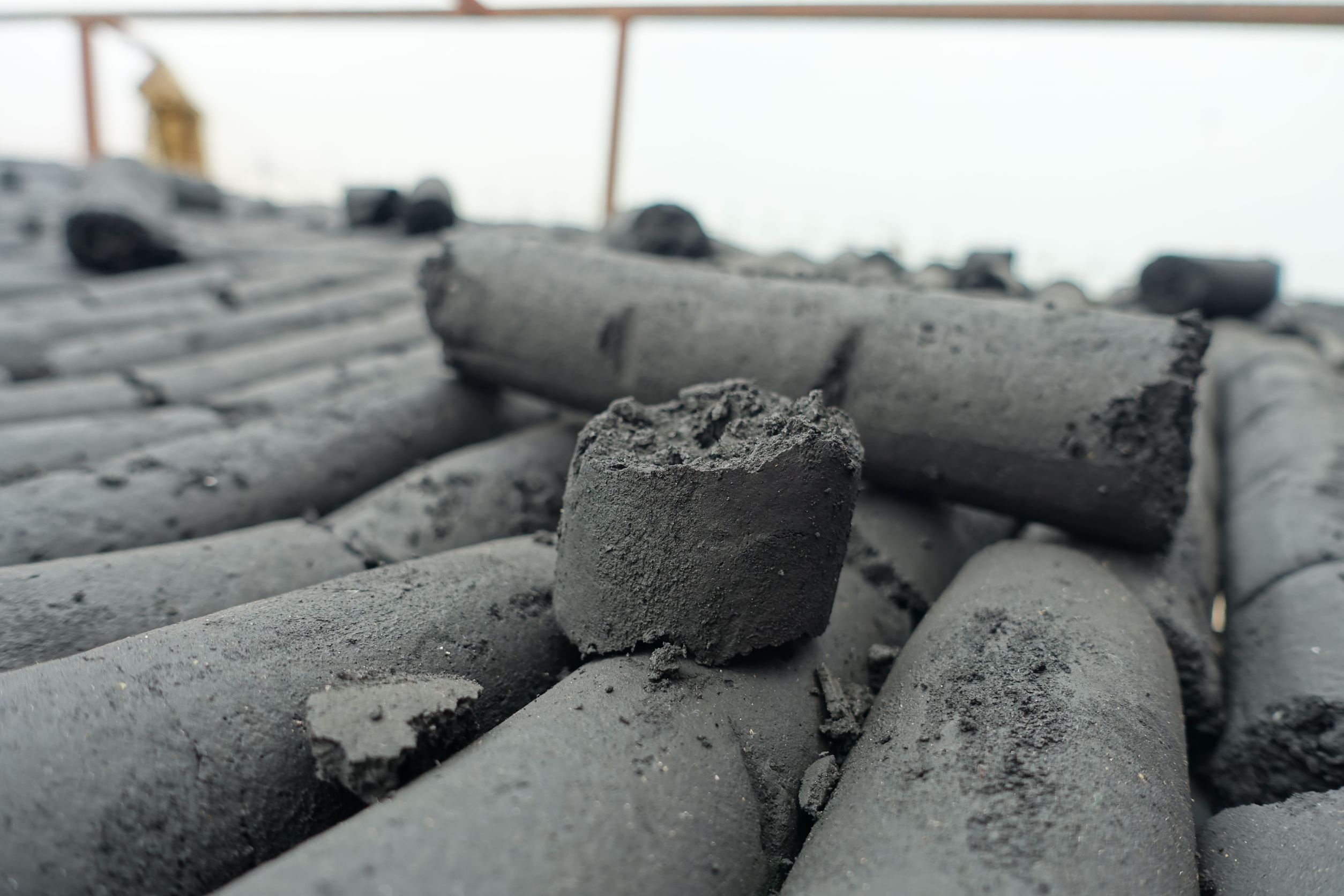 Eco-Friendly high quality charcoal briquettes manufactured by Divine Bamboo
Bamboo grows fast, has an average rotation of 4 years, requires minimal maintenance, no fertilizers or pesticides, and can be integrated into agroforestry and mixed farming systems. Bamboo is a carbon sink absorbing carbon dioxide and releasing 30% more oxygen into the atmosphere than an equivalent mass of trees. This is because it can be harvested regularly, creating many durable products which store carbon for several years, as well as the carbon in the plant itself.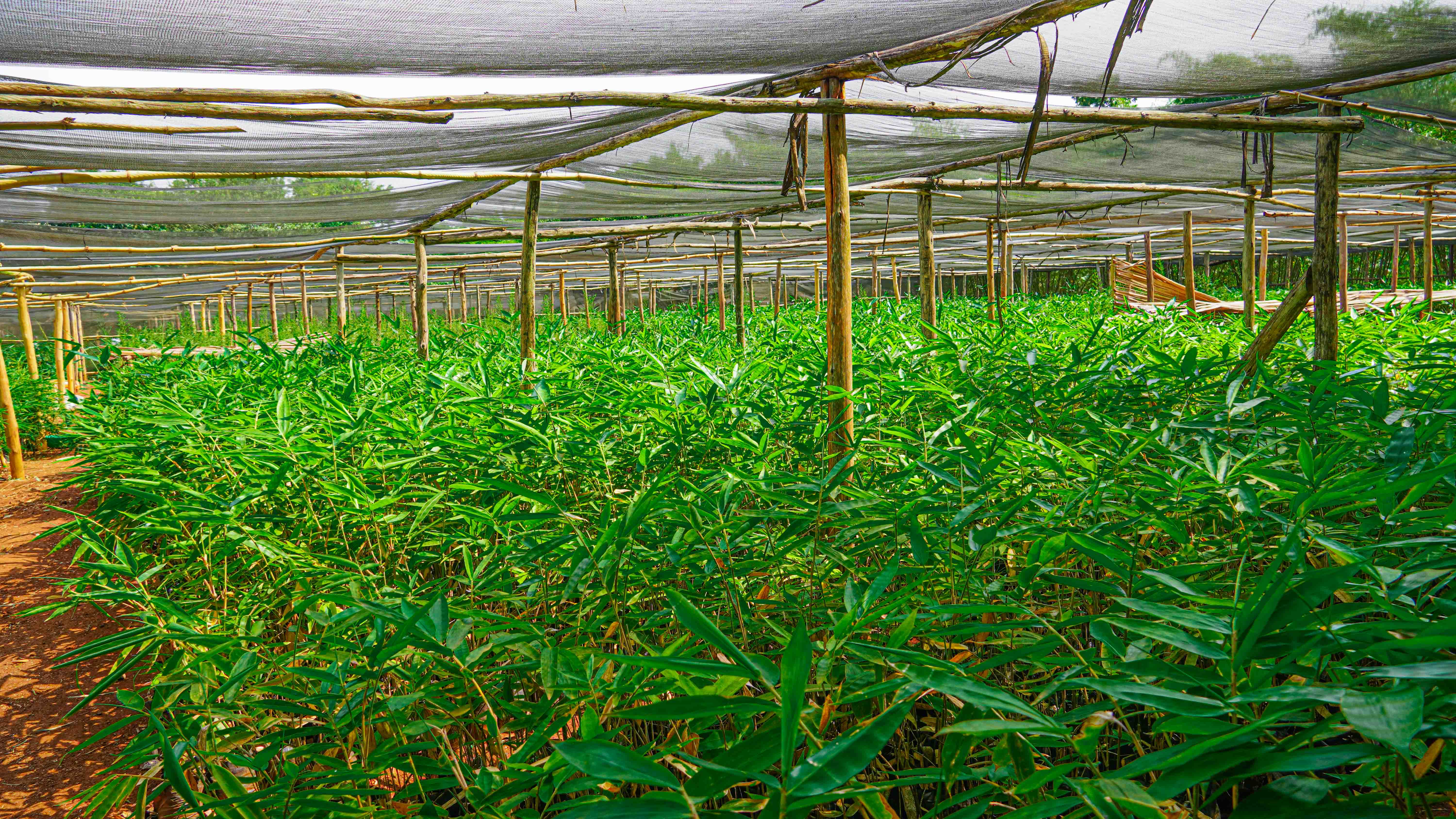 One of Divine Bamboo Plant Nurseries in Degeya - Luwero
Bamboo has been recognized as an essential asset in poverty eradication and environmental protection (INBAR, 2005).
Its strength, straightness, lightness, extraordinary hardness, range in size, abundance, ease of propagation and short growth period, makes it suitable for a variety of purposes and uses. As a result of intensified interest, it has emerged as potentially the most important non-timber forest resource to replace wood. In addition, it is uniquely suited to agroforestry with many uses like intercropping, water filters; rehabilitation of wetlands, and supply of construction materials and fodder.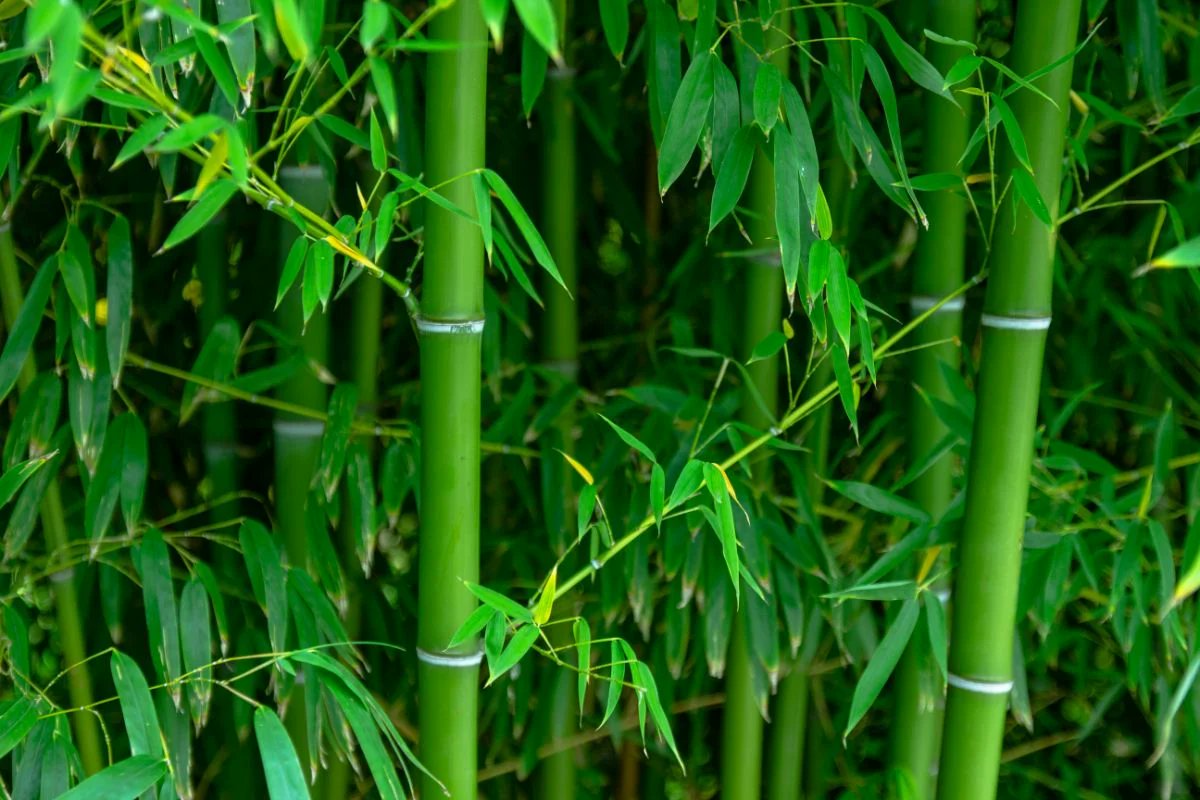 Bamboo plantation
What has Divine Bamboo done so far?
Divine Bamboo has been in existence for 6 years on its mission to stop deforestation in Uganda through the cultivation and promotion of non-invasive fast-growing bamboo species to produce clean cooking fuel in the form of briquettes and charcoal. The company is backed by 17 full-time staff with expertise in different areas including forestry, energy, rural development, finance, accounting as well as administration.
The company has also made ties with over 3,100 farmers with smallholder farmers through agroforestry restoration practices. These farmers have been trained in bamboo plantation establishment, given bamboo seedlings and are included in our supply chains. Divine Bamboo has the only 5-star nursery in Uganda certified by the Food and Agricultural Organization with a capacity of producing 200,000 seedlings annually.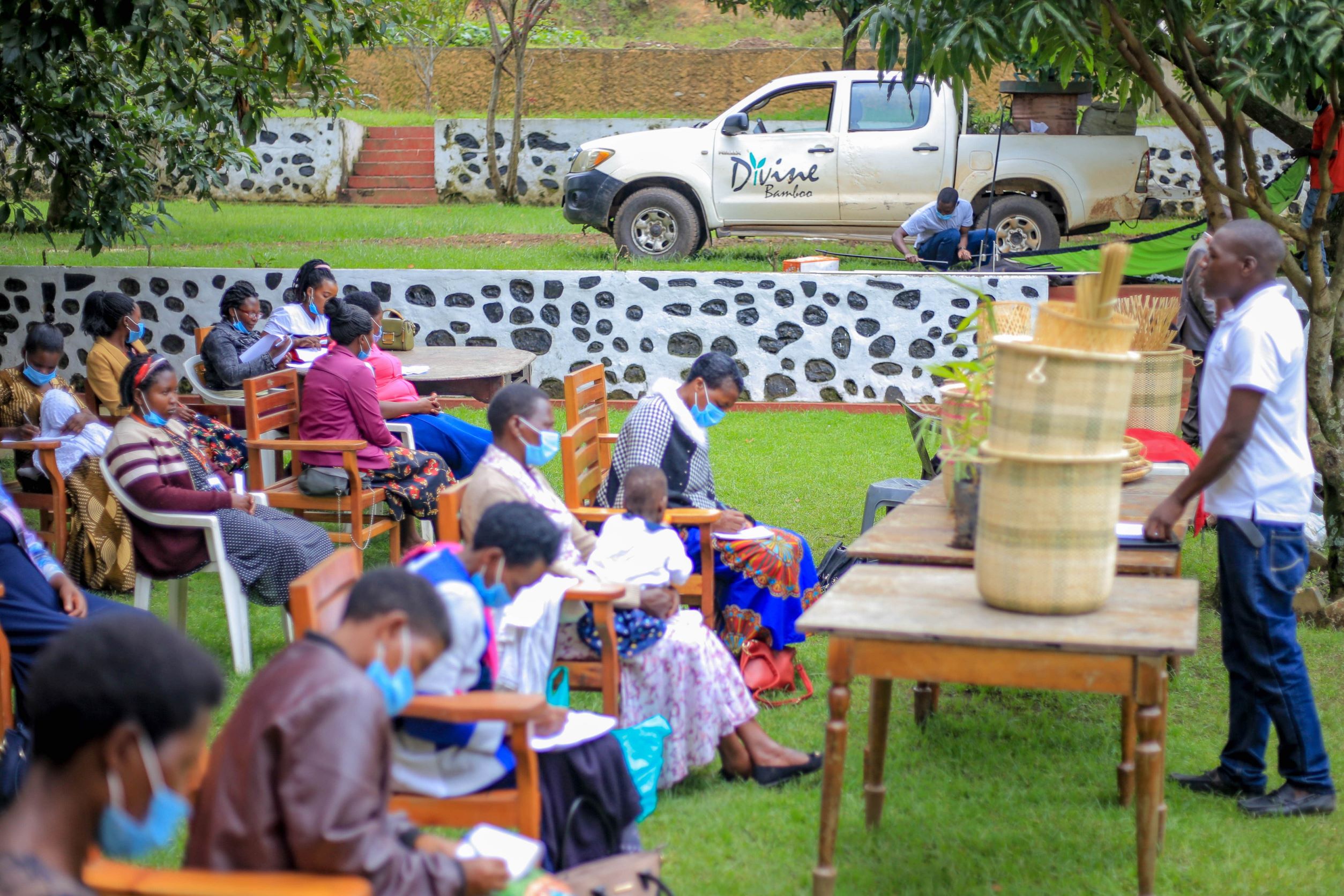 Farmer training in one of the western districts of Uganda
The company has different expertise in restoration and has run different initiatives in this regard. In 2019, Divine Bamboo in partnership with the National Forestry Authority restored 5 hectares of land in Kalangalo on the shores of lake Victoria, the land had been degraded mainly due to human activities like sand mining and agriculture and we established a bamboo plantation to protect the land. The company has supported the establishment of multiple plantations through various partnerships like 30 acres of land with Nandere Catholic parish, and other engagements with private foresters amounting to a cumulative total of 300ha.
Divine Bamboo has established a briquette facility with a capacity of producing 20 tons per month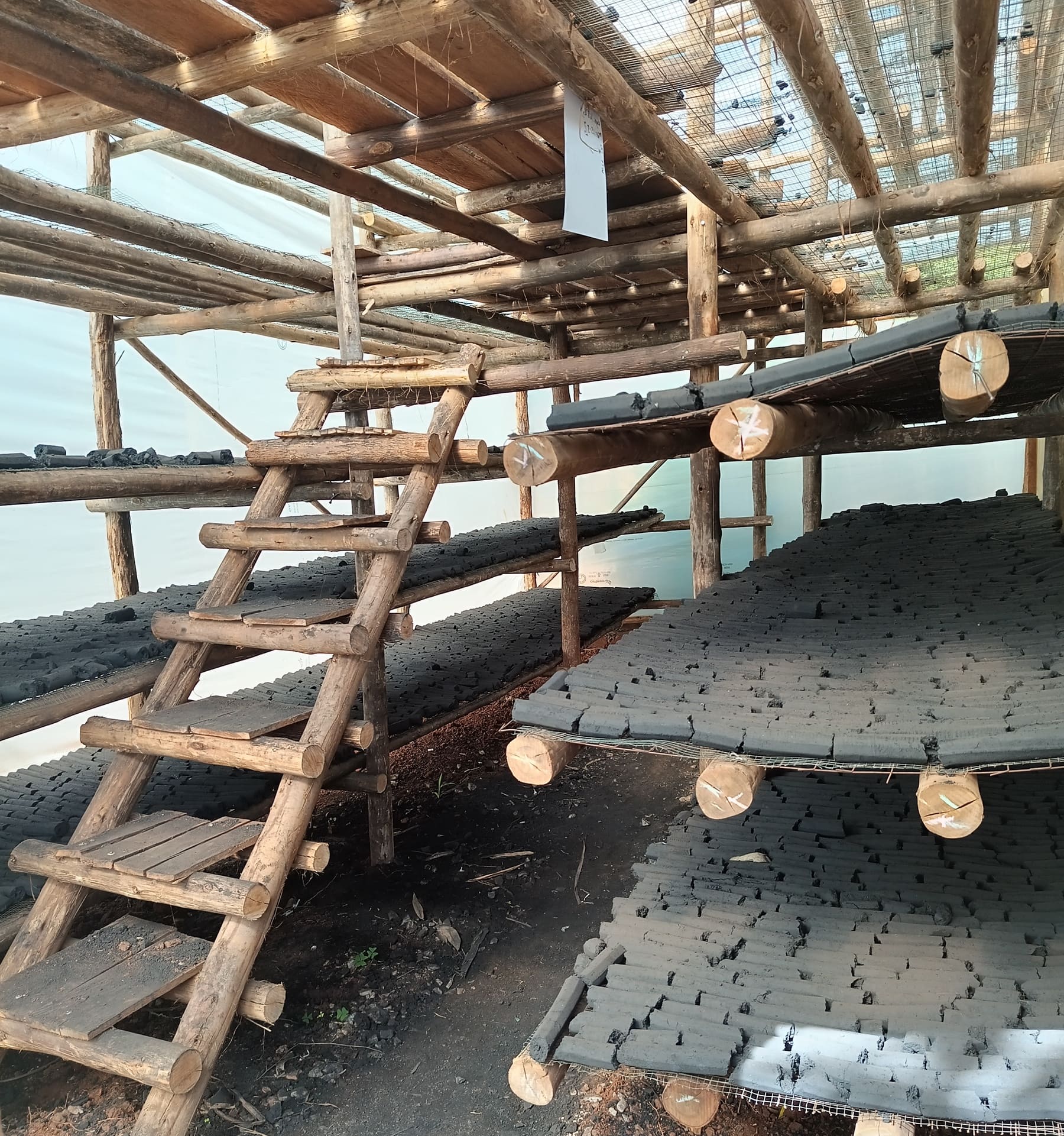 Wet briquettes in the drying facility
To find out more about our work take a look on video below.
Divine Bamboos has set out expansion plans to increase its production capacity of briquettes from 240 tonnes currently to 2400 tonnes annually. To achieve these goals, the company plans to scale the availability of raw materials through the support of Humance we will be able to take a path to these goals by establishing 200 acres of bamboo plantations as well as engaging smallholder farmers and local communities in the next year.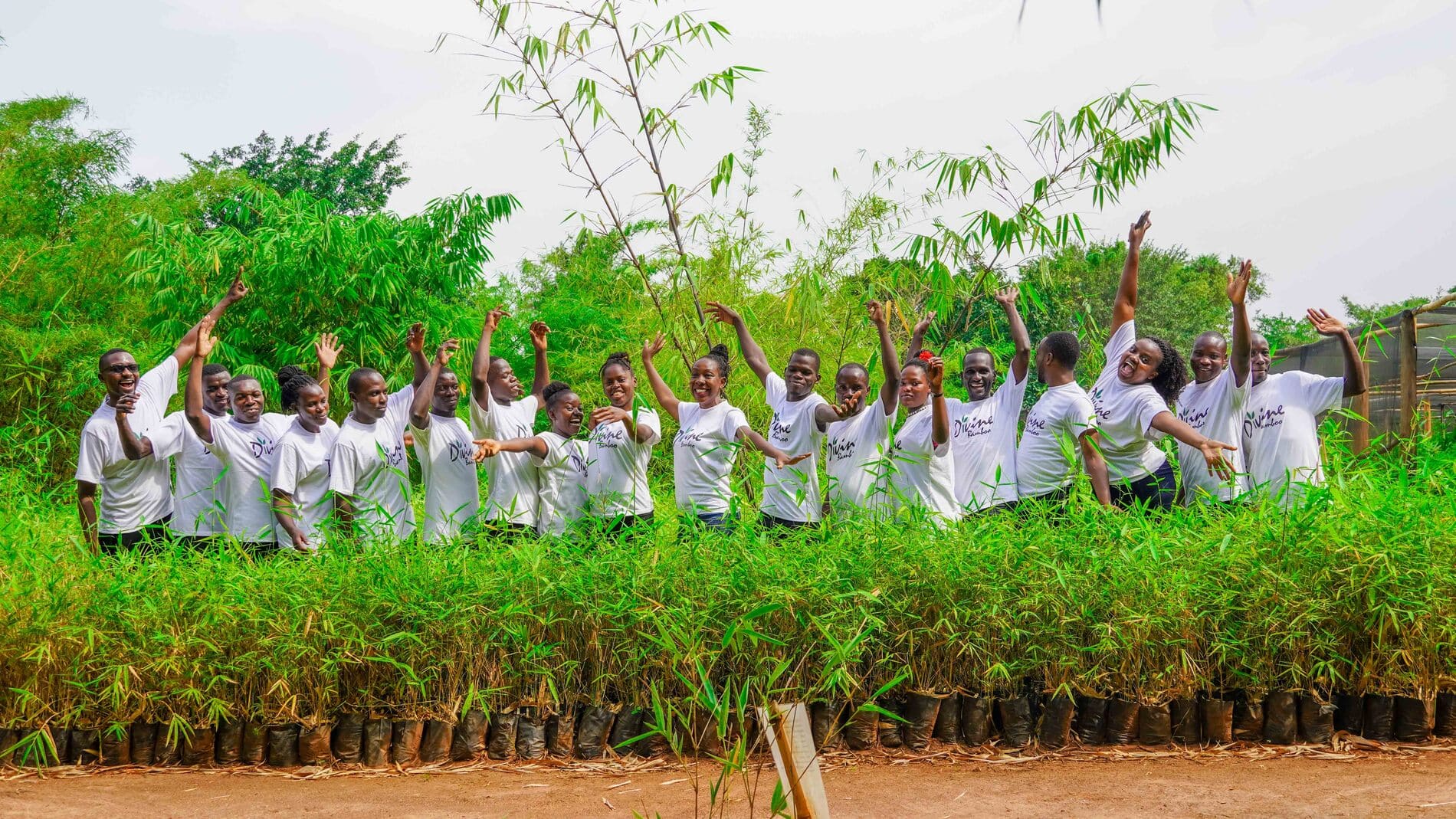 During the establishment of bamboo plantations, we focus our planting activities on the restoration of degraded areas like riparian regions. Particularly we will target areas in western Uganda around the Greater Virunga landscape that have been hit by different climate hazards including flooding of rivers, prolonged droughts, and continued erosion that have greatly impacted livelihoods. We also, in addition, utilize our value chain to create value for smallholder farmers by deploying agroforestry programs with farmers who can make an earning from bamboo traded to us.
Through this scale and expansion, we will further contribute toward the absorption of carbon dioxide and contribute to efforts against global warming. Bamboo is a valuable sink for carbon dioxide storage; on average, 1 acre absorbs 6.9 tonnes of carbon per year. Therefore, planting over 5,000 acres will ensure the absorption of over 1,725 tonnes of Carbon per year.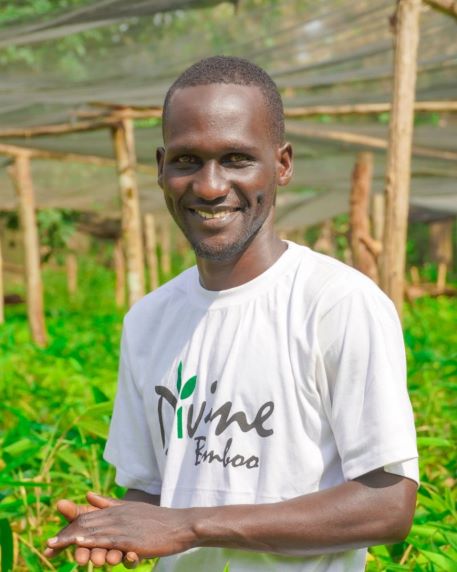 Innocent Ogenrwot
Nursery Manager
Innocent holds a Diploma in Forestry from Nyabyeya forestry college. He has four years in managing seedling nurseries.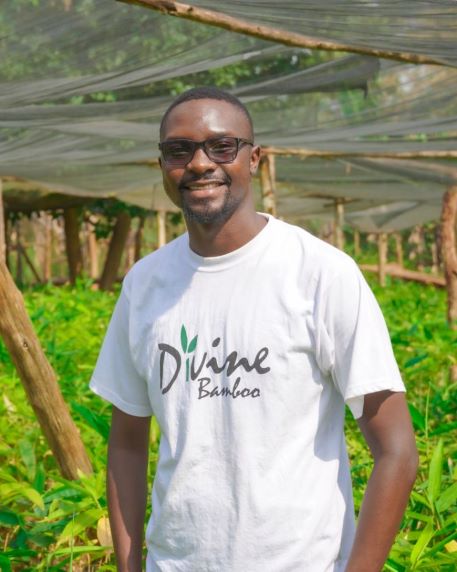 Kyewalabye James
Programs Manager
James (MA in Agriculture and Rural Development, 8 years experience in Rural DEvt, startup & management.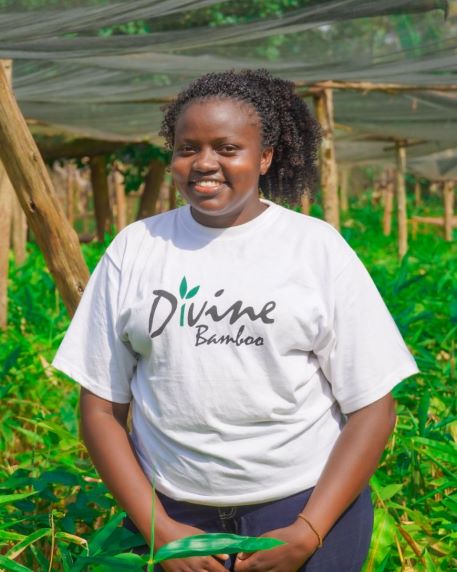 Racheal Lanyero
Projects Officer
Passion for Environment, 2 yrs experience in bamboo value chains. Racheal holds a degree in Transport and Logistics Mgt.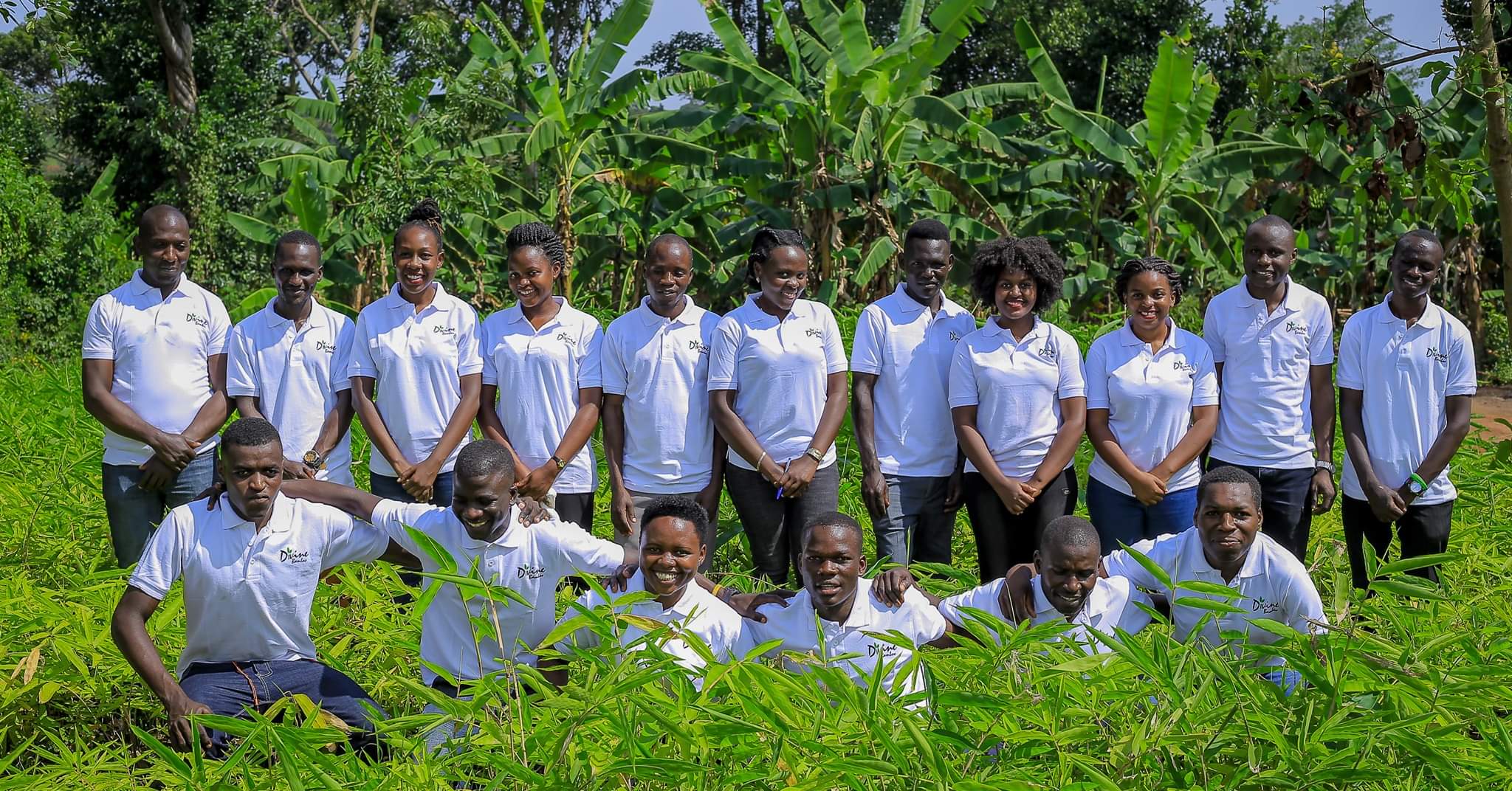 Many others
Team Divine Bamboo
Our team includes many specialists who work with bamboo. They will also take part in the implementation of the project
Name
Supplier
Quantity
Amount
Receipt
Seedlings (50,000 pieces)
-
1
$67,568
-
Planting ($0.24 per seedling)
Divine Bamboo
1
$12,162
-
Monitoring ($0.14 per seedling)
Divine Bamboo
1
$6,757
-
Transport ($0.05 per seedling)
-
1
$2,703
-
Admin costs ($0.23 per seedling)
Divine Bamboo
1
$11,595
-
Unforeseen expenses
-
-
$2,016
-
Reward for the organization
-
-
$5,000
-
Acquiring charges
-
-
$6,880
-
Philanthropists have not yet supported the project
Be the first and leave your mark in history
Be the first
and leave your mark in history